OUR QUALITY
We are committed to the highest standards of quality and value your hard-earned dollars. Video Brochure Canada will only produce quality video brochures and video business cards that we would be proud to use ourselves. We appreciate that our clients put their biggest asset in our hands — their business. Our goal is always to surpass expectations and nurture a long-lasting relationship with new and loyal clientele. Many clients come back to Video Brochure Canada for additional projects, not only for the quality product but for the quality process. We ensure each experience with our team is efficient, productive and memorable. As a North American Company, Video Brochure Canada is proud to share that all products are designed, produced and assembled in Canada.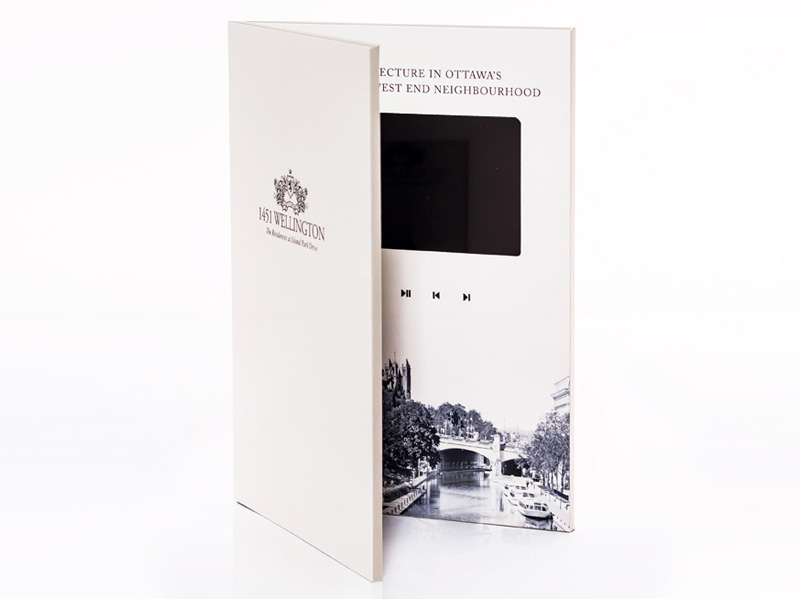 Meticulous attention to detail goes into all our hardcover and softcover enclosures, ensuring straight and clean lines.
It is in the little details that good products become great. Whether you choose a standard sized brochure of opt for something completely custom, you can rest assured that we will create it with excellence.
We offer a range of different displays for each of our product lines. From large 7" screens to 2.4" screens, all have gone through an exhaustive quality control process.
We pride ourselves on doing things right, and our pockets are a great example of this in action. We use the same high quality stock used for our enclosures to create sturdy pockets to hold your printed material.